– Charles M. Shultz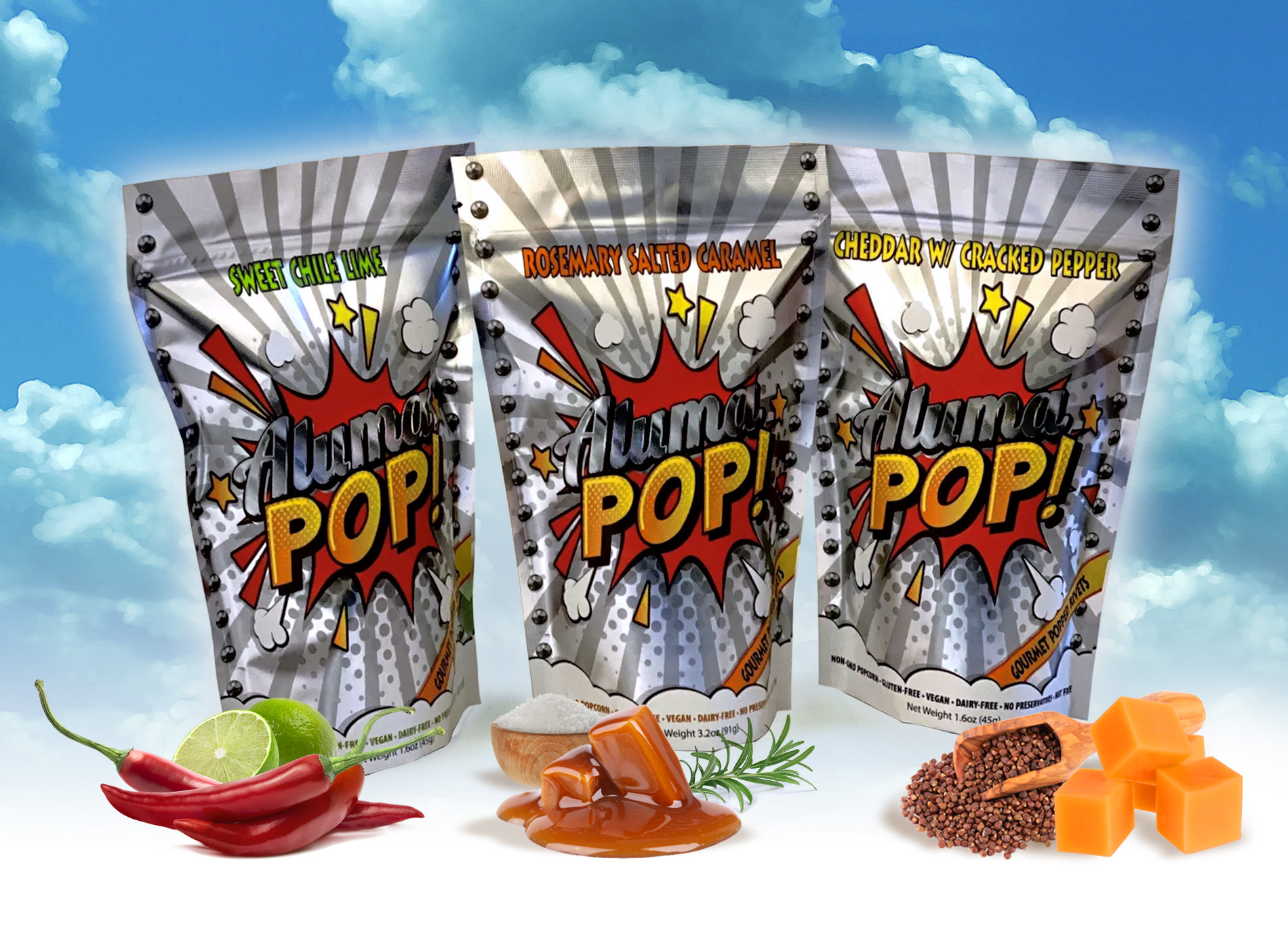 Aluma-POP!
It's the gourmet popcorn we love to share, and so will you!
An idea we hatched while walking our dog and talking about how much we love popcorn, Aluma-POP is a pure and blissfully delicious gourmet brand that's available only from Airstream Life.
Aluma-POP makes a great gift and is a perfect giveaway, snack, or happy hour treat for chapter rallies, parties, or other events. If food and fun are on the agenda, Aluma-POP should be on the snack table!
The Aluma-POP Legend
According to stories told 'round rally campfires, Dr. Wally and his little dog, The Colonel, were goofing around in the lab one day when The Colonel knocked a jar of spices into a vat of hot rivets. Voila! The rivets exploded into flavorful Aluma-POP.  (It could happen, right?)
Available these yummy, you'll-want-to-lick-your-fingers flavors:
Sweet Chile Lime – Fresh red chile sourced directly from New Mexico. Perfect spicy flavor with a hint of real dried lime.
Rosemary Salted Caramel – A perfect balance of savory and sweet. Has a dimensional flavor with a subtle herbal note. Finished with sea salt.
Cheddar w/ Cracked Pepper – This non-dairy cheddar is a true vegan delight. Black pepper adds a perfect, spicy finish.
Cost: $5/bag, plus shipping.
Quantities: Box of 3 bags, or full cases of 24 bags — Single or mixed cases are available
Delivery: We'll pop and ship your product within 2 weeks.
Allergies or dietary restrictions? Don't worry! Aluma-POP is: 
Non-GMO | Gluten-Free | Dairy-Free | Vegan | No Preservatives | Nut Free
Aluma-POP is made in small batches by popcorn artisans in Tucson, AZ.